Posts Tagged 'Causeway Club Wedding Photography'
Oh, Bar Harbor- who doesn't love an excuse to head up to Bar Harbor?! I was so excited when Emily and Heidi decided to book me as their photographer because:
1. They seemed like such an awesome and wonderful couple on the phone!
2. I love Bar Harbor, Maine!
These two wonderful ladies chose to have their beautiful wedding day at the Causeway Club in Southwest Harbor in Acadia, Maine. The Causeway Club is a golf club near the water and they have an awesome barn perfectly lit for weddings. But before things were underway at the club, Emily and Heidi stayed at a friends house not far away to get ready. There was so much thought and connection put into the wedding.  Friends were helping them get ready- doing their hair and makeup, flowers, decorating the barn, catering the food and they actually found me through mutual friends!  Oh, and do you see capes?  Heidi's amazing and talented mother makes those, and have become a "thing", so hilarious!  But once these two ladies were all gussied up, they had a very short and sweet first look moment at their friends home. Then it was time to get married! They whisked off to the Causeway Club and, below the barn, is where everyone gathered for their nuptials. Their Justice of the Peace was a dear companion, and they had a very touching and beautiful wedding ceremony. The love between the two of them was felt by everyone, and everyone's love for them was felt as well! They sealed it with a kiss, and then it was portrait time! We took some portraits right around the barn, and then we zoomed down the hill to the water via golf carts. The lighting couldn't have been more perfect, and their whole bridal party was such a hoot! After their beautiful portraits were done it was time to celebrate with friends, family, yummy food, and great acoustic tunes. After several touching toasts were given it was time to dance, and did this crew dance! In between the beats we even found time to sneak down to the water right at sunset. We made it a quick portrait session as the mosquitos were attacking us down by the water and I was yelling "SLAP" (to slap mosquitos) in between photos! And despite all the bites, Emily and Heidi were laughing through it all. Wow, what a totally awesome day and I'm so excited for you two! It was a total pleasure, and hope you have fun reliving the day looking through these photos!
Photographed by Anne Skidmore of Anne Skidmore Photography.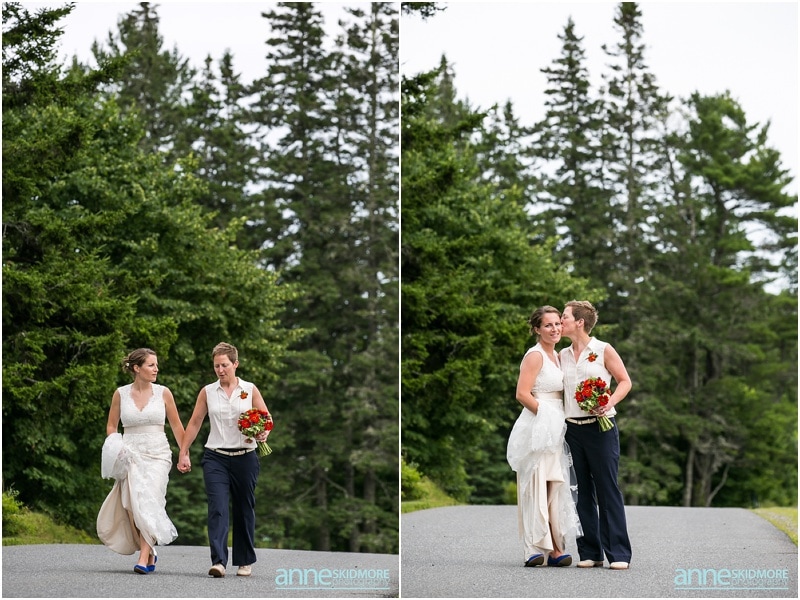 Main Photography:  Anne Skidmore of Anne Skidmore Photography
Ceremony:  Causeway Club, Southwest Harbor, Maine
Reception Location:  Causeway Club, Southwest Harbor, Maine
Florist:  Chickadee Hill Flowers, Emily Henry, Bar Harbor, ME
Catering:  Milk and Honey, Northeast Harbor, ME
Wedding Desserts:  Milk and Honey, Northeast Harbor, ME
Music:  Mel Lisy, Southwest Harbor
Hair & Makeup:  Mel Lisy of Studio 296, Southwest Harbor ME
Emily's Wedding Dress:  Madeline's Daughter, Portsmouth, NH
Emily's Wedding Shoes:  TOMS Shoes
Emily's Dancing Dress:  Nicole Miller from Spoil Me, Falmouth, ME
Heidi's Wedding Ensemble:  Banana republic pants, Anne Taylor top, John Fluevog shoes
Capes:  Heidi's Mother, Linda Shingleton